REGRET lyrics – R nait | tanishk kaur | Gur sidhu | Punjabi song lyrics
REGRET SONG:
"Regret" is a punjabi song sung by R nait featuring tanishq kaur. The song lyrics are also written and composed by R nait. This song is a very beautiful Punjabi song. The Regret punjabi song is published under the music label of Speed records.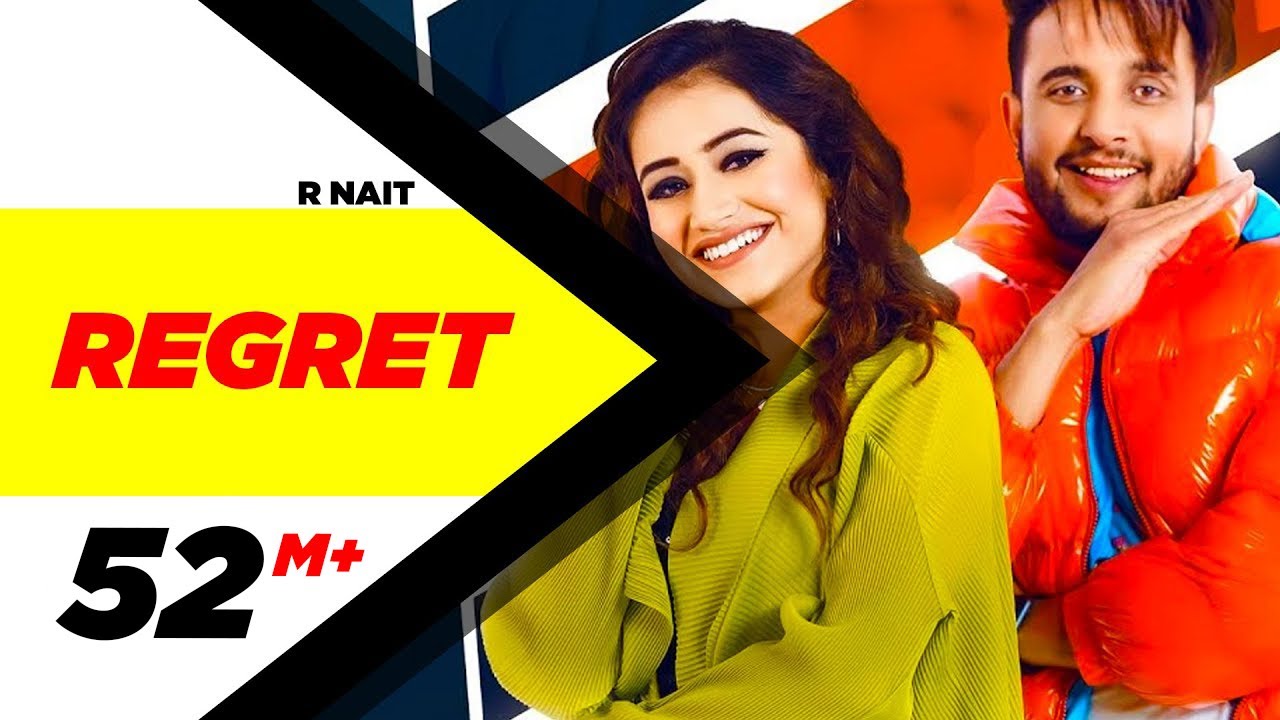 The music in the song is given by Gur sidhu and the video is directed by Mohit Middha & Puneet s Bedi. Satkaranveer Singh Khosa and R Nait Friends Group have given a special

appearance in the song.
REGRET SONG DETAILS:
Singer/Lyrics/Compose – R Nait FT Tanishq Kaur Music – Gur Sidhu Director – Mohit Middha & Puneet s Bedi Project By – Sahejpal Singh Sidhu Conceived By – Palwinder Singh Soni Spl Thanks – Satkaranveer Singh Khosa, R Nait Friends Group Publicity Design – Impressive Design Studio Label – Speed Records
REGRET SONG LYRICS:
You already its Gur Sidhu music
Ho mainu taan pata si ni tu baahar jayegi
Chhad ke yaaran nu kade paar jayegi
Haan mainu taan pata si ni tu baahar jayegi
Chhad ke yaaran nu kade paar jayegi
Bachcheya di chhoti chhoti gall vich billo
Bachcheya di chhoti chhoti gall vich billo
Chhupe hunde wadde wadde raz goriye
Yaar lakdi da mele chon khareed de si Ford
Ni tu cell'an wala laindi si jahaaj goriye
Lakdi da mele chon khareed de si Ford
Ni tu cell'an wala laindi si jahaaj goriye
Ho aakhda hunda si bapu kehda padhunga
Lagda kanjar mainu kheti karunga
Lagda kanjar mainu kheti karunga
Ho aakhda hunda si bapu kehda padhunga
Lagda kanjar mainu kheti karunga
Chhota hunda sun'da reha si ramla
Pata nai si wadda hoke geet karunga
Ho totali zubaan vichon phurr phurr keh ke
Totali zubaan vichon phurr phurr keh ke
Si main Ford wali kad'da aawaz goriye
Yaar lakdi da mele chon khareed de si Ford
Ni tu cell'an wala laindi si jahaaj goriye
Lakdi da mele chon khareed de si Ford
Ni tu cell'an wala laindi si
Love letter kade si mathe roz maarda
Ve hunn taan kare hain propose maarda
Ve hunn taan kare hain propose maarda
Love letter kade si mathe roz maarda
Ve hunn taan kare hain propose maarda
Hunn kyon ni tainu mera aunda moh ve
Sune ae Toronto tera hona show ve
Tu taan mera hunda si ve dilon karda
Tu taan mera hunda si ve dilon karda
Main na tainu jaan'di hundi si tich ve
Ho bad luck mera ignore maareya
Main ticket'an khareedan luck land vich ve
Bad luck mera ignore maareya
Main ticket'an khareedan luck land vich ve
Ho mittran da khaande si jo khaar sohniye
Diary utte rakhan chaad chaad sohniye
Diary utte rakhan chaad chaad sohniye
Ho mittran da khaande si jo khaar sohniye
Diary utte rakhan chaad chaad sohniye
Dhokhe laggan mainu khand warge
Jinna ne banaya main star sohniye
Ho duniya te rahe na Sikandar jehe
Ho duniya te rahe na Sikandar jehe
R Nait ne vi karna ni raj goriye
Yaar lakdi da mele chon khareed de si Ford
Ni tu cell'an wala laindi si jahaaj goriye
Lakdi da mele chon khareed de si Ford
Ni tu cell'an wala laindi si jahaaj goriye
If you find any mistakes in this song lyrics then please let us know by using our
contact us
page
#Regret #regretpunjabisong #punjabisong2020 #Rnaitsong

Other songs lyrics:
Sau Galtiyan – shimla mirch | Rajkumar rao | Hema malini

ILLEGAL WEAPON 2.0 LYRICS – STREET DANCER 3D | VARUN DHAVAN, SHRADHA KAPOOR

Emiway – dhua dhua song lyrics in hindi – Emiway Lyrics
punjabi latest songs lyrics, punjabi music, Punjabi lyrics, punjabi romantic songs lyrics, bhangra, All hit punjabi songs, New punjabi songs 2020, latest punjabi songs lyrics 2020, All new punjabi songs 2020, regret, regret full, Regret Video, Latest Hiphop,

regret r nait, r nait new, , rnait new, nait songs, regret rnait Gur Sidhu new, tanishq kaur new, tanishq kaur songs, regret nait, Tanishq Kaur new, Tanishq Kaur songs, gur sidhu songs, r nait new song, rnait new song, regret r nait, regret song, regret full song lyrics